Production and Maintenance
At Raytheon, we're a leader in defense, civil government and cybersecurity solutions whose performance creates a world of difference when it comes to the safety of our global communities. Customers across the globe depend on us for superior manufacturability and best-in-class products. In turn, we rely on our production and maintenance teams to help us deliver exactly that.
Working in virtually every business area, Raytheon production and maintenance teams ensure precision machining, fabrication integrity and operational efficiency throughout everything we do. Are you ready to build and maintain the products that make our reputation?
Depending on your role, you'll also need to be adept in several of these key functions:
work with electrical, electronic, mechanical, pneumatic, hydraulic, experimental, developmental and electromechanical systems and devices
interpret engineering, military and manufacturing specifications
inspect, test and repair electronic, pneumatic, electromechanical and/or mechanical production items
operate standard, commercial and specialized test equipment to ensure compliance and conformance to specs and quality control methods
plan, setup, and perform functional, operational, environmental and specialized testing under all conditions
transport electronic, hydraulic, and mechanical test equipment, parts and materials in accordance with established procedures
determine functional adequacy and efficiency of machines and tooling to fabricate parts to defined specifications
provide shop floor assistance in maintaining machine operational efficiencies and uploading/downloading of machine programs and engineering interface
Inside the Space Factory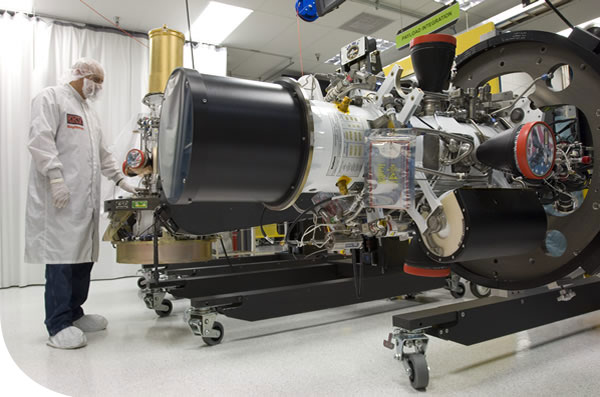 This is Raytheon's Space Factory, a workshop that is like no other in the world. Learn More
Upcoming Events
UCLA Electrical and Computer Engineering Career Fair (Fall 2018)
Time: 10:00 am PT - 4:00 pm PT Address: Mong Center Patio Engineering VI, Westwood Plaza Los Angeles, California 90095 Type: Campus Career Fair
UCLA Employer Resume Day: Engineering & Tech Edition
Time: 10:00 am PT - 12:00 pm PT Address: UCLA Career Center, 2nd Fl. Rm. 200 , Type: Networking Event
UCLA Master's and PhD Networking Breakfat
Time: 9:00 am PT - 10:30 pm PT Address: Ackerman Student Union Westwood Plaza Los Angeles, California 90095 Type: Networking Event
UCLA Engineering & Technical Fair- Day 1 (Fall 2018)
Time: 11:00 am PT - 4:00 pm PT Address: Ackerman Union 308 Westwood Plaza Second Floor Los Angeles, California 90095 Type: Campus Career Fair
Raytheon Hiring Event: Finance, Supply Chain, Legal, Business Development, International, IT & More!
Time: 12:00 pm ET - 2:00 pm ET Address: , Type: Networking Event
Register
MOAA Military and Veteran Virtual Career Fair
Time: 1:00 pm PT - 3:00 pm PT Address: , Type: Professional Career Fair
Register