Engineering Jobs
As a major supplier to the UK Ministry of Defence, Raytheon has developed strong capabilities in mission systems integration within Defence, National Security and Commercial Markets. These capabilities afford opportunities across a range of businesses and technologies:
Defence
Airborne Solutions
Force Protection
Air Traffic Management
Weapons Systems
Power & Control
Integrated Power Solutions
Precision Effects
Intelligence & Security
Cyber Security
Defence Intelligence Solutions
Information Exploitation
Opportunities exist for engineers at varying levels of experience, across a range of disciplines. Most disciplines are needed across the full range of sites and businesses: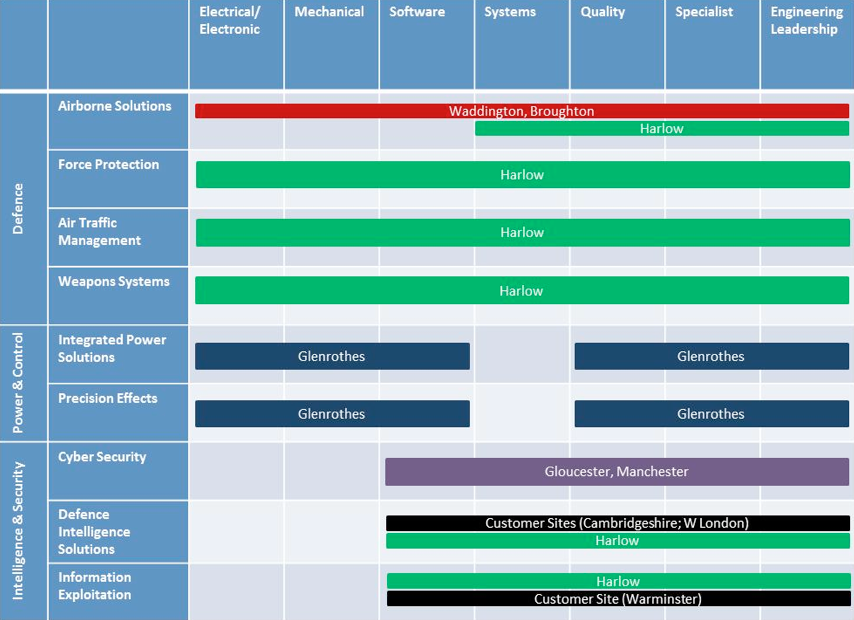 Electrical/Electronic Engineering
We regularly have vacancies across the electrical disciplines – feeding product lines in GPS anti-jam and air traffic management at Harlow and power product solutions in Glenrothes. Typical vacancies might be in:
Power Design
Firmware
Digital design
Manufacturing Test Development
RF Engineering & Test
Mechanical Engineering
There are openings in Raytheon for a range of mechanical engineers including: mechanical system design for components and defence systems; support to manufacturing test development; thermal and stress analysis and design; and mechanical and aeronautical design for system integration onto airframes.
Software Engineering
Software forms a significant part of Raytheon engineering development – and there are opportunities to work on technically challenging programmes in Defence, Intelligence & Security, Airborne Solutions and Cyber research with additional opportunities for firmware/embedded software development, principally in our Power and Control business.
Utilising a range of technologies (C++, C#, .NET, Java, GWT) and tools (inc. Team Foundation Server, Visual Studio and Eclipse), our software engineering roles might involve:
Object Oriented Analysis, Design & Programming
Software Architecture & Development
Software/Systems Requirements Analysis & Modification
Agile & Scrum Environments
Big Data Analytics
Software Test and Integration
Test Development
Embedded Software
Systems Engineering
Systems Engineers are recruited across a full range of businesses and sites – they are needed to establish and manage requirements, develop architectures, generate system designs and partition solutions down to constituent products and components. Our systems engineers might oversee detailed development, complex Systems Integration, and assist in managing sub-contracts, and they integrate and verify our products through to delivery and beyond.
Quality Engineering / Quality Assurance
Members of our Quality Assurance (QA) department work alongside Engineers of all disciplines to ensure the highest levels of standards and processes are applied in delivering products for our customers. We recruit for all of our sites, where vacancies might address a need for quality support to any of our software, hardware or systems developments. QA recruits can operate in support of manufacturing or development activities; there is an ongoing need for their involvement at all stages of a product's lifecycle.
Specialist & Lifecycle Engineering
In addition to the disciplines outlined above, Raytheon continues to recruit specialist roles that are necessary to deliver its products. The include – but are not limited to:
Integrated Logistics Support
Safety
Security
Configuration and Data Management
Human Factors
EMC
Training
Engineering Leadership
As well as meeting its engineering discipline needs – Raytheon continues to need engineering leadership positions filled at many levels. Engineering leadership roles are employed across all of our businesses and on all of our sites. For all engineering disciplines, Raytheon needs engineers who are highly capable of team leadership roles. It also needs more experienced engineers who can fill key engineering management positions. We employ engineers to co-ordinate engineering activities on larger projects – our "Programme Engineering Managers" – and we need senior engineers to help organise and run the engineering department. Engineering leaders help to set the strategy for the whole function, for our businesses and so for the whole organisation. To support innovation and inform the setting of strategy, Raytheon careers seek to ensure that technical leadership is acknowledged alongside programme management skills.
* Multiple work location possibilities. Refer to the bottom of the job description page for the complete listing.
Upcoming Events
Veteran ONLY Job Fair
Time: 10:00 am ET - 2:00 pm ET Address: Veterans Northeast Outreach Center 10 REED Street HAVERHILL, Massachusetts Type: Professional Career Fair
SVA - Career Fair - Annual Conference 2019
Time: 7:30 am CT - 9:00 pm CT Address: Disney's Coronado Springs Resort 1000 West Buena Vista Drive Lake Buena Vista, Florida 32830 Type: Diversity Conference Career Fairs
Register
GEOINT Community Job Fair
Time: 10:00 am ET - 4:00 pm ET Address: Waterford at Fair Oaks 12025 Lee Jackson Memorial Hwy Fairfax, Virginia 22033 Type: Professional Career Fair
Fort Hood SFL-TAP Mega Career Fair
Time: 10:00 am CT - 3:00 pm CT Address: Club Hood on Fort Hood 5764 24th Street Fort Hood, Texas Type: Professional Career Fair
Georgia Tech- Engineering Tech Talk (Spring 2019)
Time: 6:00 pm ET - 7:00 pm ET Address: Georgia Tech Student Center 350 Ferst Drive NW Crescent Room, 2nd Floor Atlanta , Georgia 30332 Type: Information Session
Georgia Tech Institute - ECE Career Fair (Spring 2019)
Time: 10:00 am ET - 4:00 pm ET Address: Christopher Klaus Advanced Computing Building 266 Ferst Drive Atlanta, Georgia 30332-0765 Type: Campus Career Fair